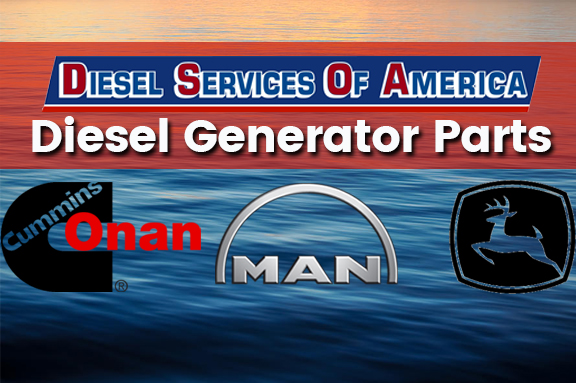 From MAN to John Deere, Perkins to Northern Lights, generators need to be serviced and filters have to be changed. Find all of your new, old, obsolete, and hard to find diesel generator parts for service and maintenance jobs in one place. We are South Florida's leading source for everything involving marine engines and diesel gensets. We are Diesel Services of America.
A marine generator set, or diesel genset, works in hand with a diesel engine. It helps to power most of a single craft's electrical functions. This makes a marine diesel genset a significant part of the boat's power system. It also means that when you neglect your diesel genset, it could cause more trouble than you think. For this reason, a regular maintenance schedule is paramount for keeping your craft's engines performing as well as they should. And when it is time for maintenance, it is time for new diesel generator parts.
Diesel Generator Parts | Product Selection
MAN Engine Parts
Cummins Onan Generator Parts
You can also see all of the John Deere Engine Parts and all of the Volvo Penta Parts we have for sale on our website here: BUY PARTS.
And check out our new diesel generator and marine engines for sale here: NEW GENERATOR & MARINE ENGINE SALES.
Or, check out our entire selection of diesel engine gensets, generators, transmissions, and replacement parts for engines and generators found in our Line Sheet here: LINE SHEET.
To purchase any marine engine or diesel generator parts, please call one of our knowledgeable sales representatives at 954-781-1464.
Diesel Generator Parts | About Us
Diesel Services of America is located in Fort Lauderdale, FL and specializes in providing clients from around the world with new and hard to find marine engine and diesel generator parts. We provide a number of engine and generator services as well, including engine overhauls, on-site repairs, and maintenance.
If you want to lower your emissions and improve your engine's performance, we can help. Once a service appointment has been set up, a certified team of skilled mechanics will perform all necessary repair and maintenance work using only state-of-the-art equipment and factory authorized standards.
We are confident in our abilities, and we stand behind our work with a satisfaction guarantee. Call our service team at 954-781-0484 to schedule a service appointment. And Contact Diesel Services of America with any other questions.
Read related articles here: Generator News
Facebook | Twitter | YouTube | Google+
Diesel Generator Parts
3,039 total views, 2 views today