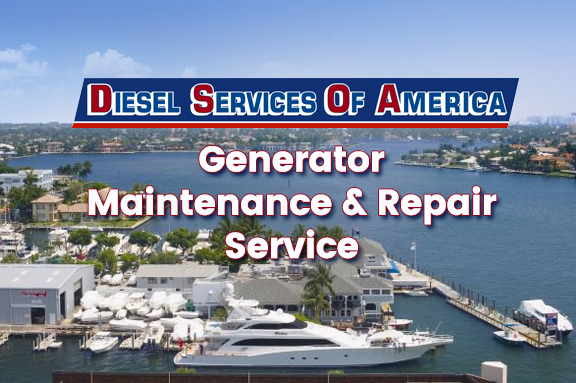 Keeping a marine diesel generator in peak condition is important for any owner. If something is wrong with your marine diesel generator then that could be the difference between money spent out on the water and money spent on costly generator repairs. That is why it is so important for you to receive regularly scheduled maintenance on your generator. Regular generator maintenance can keep your generator working like it did when you first purchased it for years and can help diagnose small problems before it begins malfunctioning. Diesel Services of America is South Florida's complete source for generator maintenance, repairs, and parts. For more information about our generator maintenance and repair services or to view our catalog of marine engine parts visit our website at the link provided here: Diesel Services of America.
Taking care of our customers is our top priority. Complete customer satisfaction is always our goal. By leaning on customer service we have been able to gain a loyal following throughout the entire South Florida community and have even been awarded the 2017 MAN Diesel Engine Service Award. This is an award given out at the Fort Lauderdale Boat Show that recognizes the diesel engine maintenance and repair center that has performed the most service work on MAN Diesel engines in both North and South America.
Our warehouse for generator maintenance and repairs is located in Fort Lauderdale, FL at 2501 W State Road 84. We are nearby many large local marinas and perform generator maintenance and repairs on engines from almost every major manufacturer well known to the industry. However, our service center is not the only place we perform generator maintenance and repairs. We also offer our clients a dockside generator maintenance and repair service. Our hope is that this makes it easier for you to schedule regular generator maintenance on your engine. All of our generator maintenance and repair services are performed by a team of professional technicians. Each of our technicians is highly knowledgeable in our respective field experienced in diagnosing issues and servicing all types of marine diesel engines and generators.
In addition to our engine maintenance and repair services, Diesel Services of America also provides diesel engine and generator parts. We are factory authorized to perform services and distribute parts by most well-known manufacturers respected in this industry. Some of the various manufacturers we provide parts for include John Deere, Cummins / Onan, Perkins, Northern Lights, Kohler, and MAN Diesel.
If you need to schedule your next generator maintenance service CONTACT US and let us know what time is best for you. You can also get in touch with us to request specific, hard to find parts for your engine.
Facebook | Twitter | YouTube | Google+
Generator Maintenance
597 total views, 1 views today