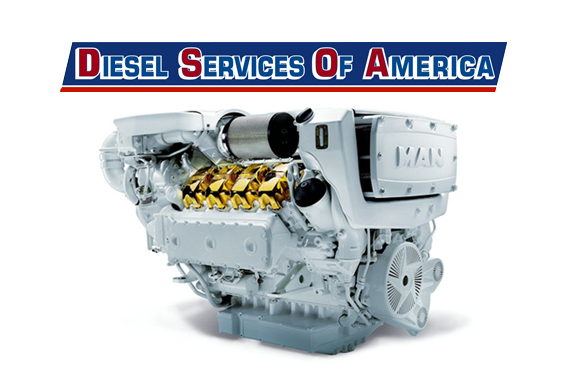 Your MAN Diesel engine is a hard working beast of a machine. It is well known to be capable of handling tough work for long periods of time with a superior level of performance consistency and durability. However, just because it is well-built doesn't mean the MAN Diesel engines marine users own can be poorly attended to.
With routine maintenance and an occasional major or minor repair, diesel engines are able to continue performing at a high level without nagging problems like foul emissions and poor fuel efficiency. So when it comes time to find a services provider for MAN diesel engines marine owners can rely on, keep us in mind.
Diesel Services of America is among Florida's longest running diesel engine service centers. We are proud to be an authorized MAN Diesel service provider and can handle all your engine needs adequately in our state-of-the-art facility or dockside.
MAN Diesel Engine Parts
Our parts department carries a diverse variety of maintenance service parts for MAN diesel engines and marine generators. We are authorized MAN parts distributors and utilize our resources to help keep our own maintenance costs lower since the parts are available to us in-house. The MAN Diesel parts we carry include:
MAN Engine Maintenance
One of our more popular services is providing high-quality maintenance for MAN Diesel marine engines as well as other engine and generator manufacturers. Our technicians have a plethora of resources available to them to ensure they have all that they could need for expert performance. We offer both in-house and dockside maintenance services and have a full fleet of well-equipped vans at the ready once you're prepared to schedule an appointment.
MAN Engine Repair
Our in-house team of technicians is highly qualified and made up of diesel professionals with industry leading certifications. Every MAN engine repair service we perform strictly follows the manufacturer's guidelines to not only ensure efficiency, but also warranty validation. We can perform minor and major engine repairs and were even awarded the "2017 MAN Diesel Dealer Award" for performing the most services on MAN engines throughout the year across all of North America.
Contact us to schedule an appointment or to speak with a diesel technician about how we can help take care of your MAN Diesel marine engine needs soon.
Facebook | Twitter | YouTube | Google+
MAN Diesel Engines Marine
153 total views, 4 views today