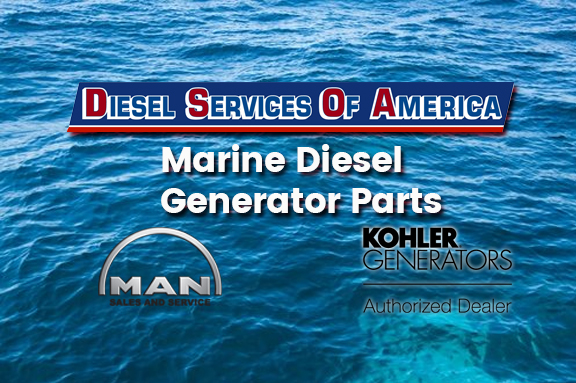 A marine diesel generator is capable of withstanding a lot of use. One of the most coveted attributes of diesel engines is their ability to perform well for years, and even decades. This does not mean, however, that diesel generators are completely invincible. They do need regular maintenance and other services, which sometimes call for certain marine diesel generator parts. For this reason, we provide a single source of new, used, and hard to find marine diesel generator parts with worldwide distribution. Continue reading to find more about the various manufacturers we are factory authorized to distribute generator replacement parts for. Or, take a  look at our website for a more investigative look into the diesel generator parts we provide. Access our site by clicking the link provided here: Diesel Services of America.
Marine Diesel Generator Parts | Factory Authorizations
We are a trusted source for vessel generator parts for clients throughout the world. We understand the diversity of the marine diesel industry and, thus, found it pertinent to become a factory authorized distributor of each of the most popular marine generator brands:
MAN John Deere

Volvo Penta

Cummins / Onan

Perkins

Kohler

Westerbeke

& More
Our business utilizes our connections with generator parts suppliers to obtain a large amount of new, obsolete, and hard to find parts for our clients. We pride ourselves on carrying just about any specific part that you might need for your diesel generator. Our complete supply collection covers the entire spectrum of generator part needs, including fuel and oil filters, lines, and more. If you want to go ahead and take a look at the full stock of parts we currently offer and have at the ready, then click the link here: Find Parts.
You can also take a look at our more information on our parts by following the link here: Linesheet.
Marine Diesel Generator Parts | Other Services
In addition to supplying spare parts for generators and marine diesel engines, we also offer a complete line of important services for our clients. We provide regular diesel engine and generator repairs, maintenance, overhauls, and pod drive services. We even include a dockside or onsite service option, hoping that this makes it easier for you when the time comes for your next service appointment.
Marine Diesel Generator Parts | About DSOA
Diesel Services of America is located in Fort Lauderdale, FL. We have been operating as a service and parts provider for all of South Florida since 1981, and look forward to concluding another decade of top-quality service work. Please CONTACT US to inquire about any of our parts, or if you have any other questions.
Facebook | Twitter | YouTube | Google+
Marine Diesel Generator Parts
530 total views, 1 views today