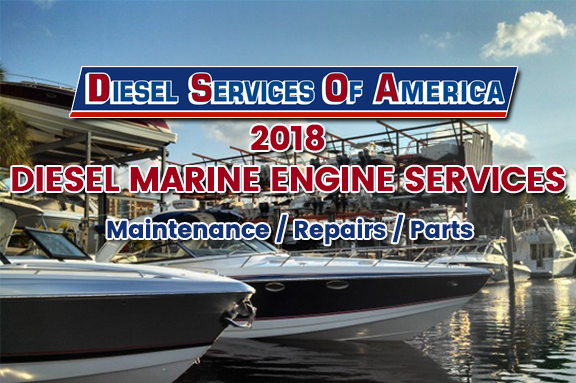 Getting your diesel marine engine serviced regularly is of great importance if you want it running smoothly for years to come. This means performing regular maintenance and having any repairs done quickly before a small problem grows into a bigger one. That is why you should trust your marine engine service provider. Especially if you don't want to overpay for faulty or shoddy work. If you are looking for the best diesel marine engine services 2018 has to offer then you are in luck. Read to find out why Diesel Services of America is the number one diesel marine engine service provider in all of Florida. For more information about the services discussed in this article or about who we are visit our website at the link provided here: Diesel Services of America.
Diesel Marine Engine Services 2018 | Our Services
Diesel Services of America is passionate about what we do. This is apparent by our collective knowledge of everything related to diesel marine engines and generators. Each of our team members is highly knowledgeable in our respective field and has an expert knowledge from years of service. We also offer a dockside service for our clients' convenience.
Here are the different diesel marine services we regularly provide at DSOA:
In addition to our diesel engine services, DSOA is also a parts distributor factory authorized by most major manufacturers. These include MAN, Perkins, Kohler, John Deere, Westerbeke and more. Click the link to view our hard to find parts here: Replacement Parts
Diesel Marine Engine Services 2018 | Benefits
There are numerous benefits to performing regular maintenance on your diesel marine engine. The two most obvious benefits are overall performance and less costly repairs. We understand that some people don't get their diesel marine engine serviced regularly because they think the costs are unnecessary and excessive. That couldn't be further from the truth. Not only will you save money in the long run by reducing the risk of costly repairs, you can also eliminate the risk of overseeing a simple problem easily fixed. This minor repair is certainly more desirable than a complete engine overhaul or having to replace your diesel marine engine entirely. And who doesn't want their engine performing as well or better than the day you first got it.
Here are some of the guaranteed benefits of getting regular maintenance:
Better fuel economy

Improved performance

Reduced noise/vibration

Decreased emissions

Less frequent repairs
Diesel Marine Engine Services 2018 | About Us
Diesel Services of America is a South Florida marine engine service provider that serves the entire South Florida region. We are located in Fort Lauderdale, FL at 2501 W State Road 84. We always put the customer first and are here to serve you. CONTACT US if you have any additional questions.
Facebook | Twitter | YouTube | Google+
Marine Engine Services 2018
507 total views, 1 views today