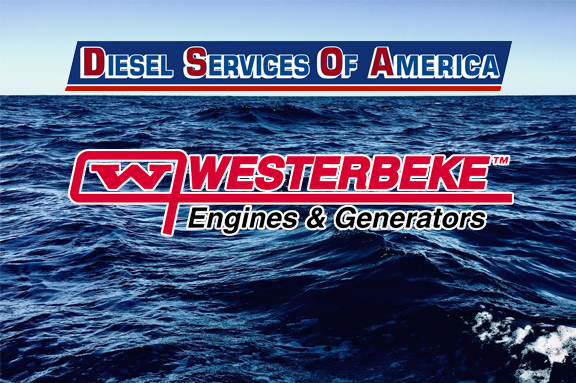 Have you recently searched for Westerbeke generator repair near me but are unsure where to bring your Westerbeke generator? The generator onboard your marine vessel is an essential component that powers all the lights and electrical equipment and is in constant use.
In order to ensure your Westerbeke generator continues to operate at peak performance, it is critical that it be diligently maintained. Even with regular, professionally performed marine diesel engine maintenance, you will still encounter an issue that can cause the generator to malfunction.
Loud noises and noxious fumes are the most visible signs of a malfunctioning generator. Professional and timely marine diesel generator repair is essential to the health of your marine vessel's generator. 
Westerbeke Generator Repair Services
Diesel Services of America is a name you can rely on when looking for Westerbeke generator repair near me. We offer top diesel services of marine diesel generators including recognized brands like Westerbeke. Our highly trained and certified technicians inspect every aspect of your Westerbeke generator to ensure the highest quality service. 
Diesel Services of America operates from our state-of-the-art facility in Fort Lauderdale, Florida, and services all of Southeast Florida and the entire Caribbean. Our technicians have access to the latest equipment available to test and repair every component of your marine diesel generator and engine. 
We take pride in our commitment to customer service and offer the most comprehensive and timely repair services available. Diesel Services of America also operates a large fleet of fully-equipped service vehicles that provide dockside services. This service makes Westerbeke generator repair near me convenient while remaining comprehensive. 
Westerbeke Generator Parts
One aspect that sets Diesel Services of America from other service providers is our extensive in-stock parts department and store. You will be able to find everything necessary to perform quality Westerbeke generator repair and maintenance.
Our parts store will keep you from having to wait around for an essential part. Diesel Services of America's parts department also carries a large number of aftermarket or hard to find diesel engine maintenance parts. 
Highly Trained Generator Technicians
Diesel Services of America has remained at the forefront of the industry with our team of highly trained technicians. They are able to diagnose and address any issue that could develop in your marine diesel generator or engine.
Our technicians are also fully capable of performing generator overhaul in the event that repairs are not enough. We provide quality service for a large number of major brand names including: Cummins/Onan, Kohler, Northern Lights, and Westerbeke.
Diesel Services of America can be trusted to keep your marine diesel generator and engine functioning for years to come. Next time you need Westerbeke generator repair near me, please call us at 954-781-1464 to schedule a maintenance appointment or dockside service. 
Westerbeke Generator Repair Near Me
257 total views, 2 views today