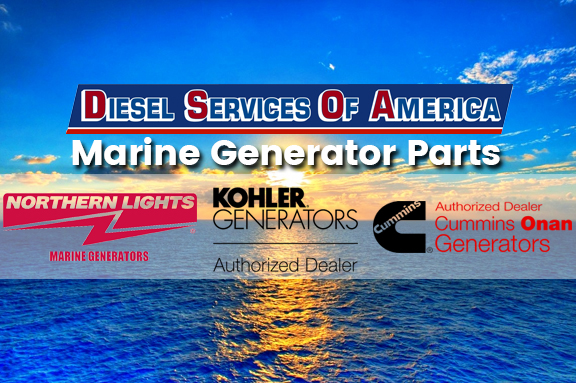 If you need marine generator parts, it's best to get them from a trusted provider that knows engines as well as they know their products. Because a marine generator is in charge of so many important aspects of a marine craft, changing the right part at the right time could be the difference between an enjoyable time on the water and learning of a major issue while inconveniently out at sea. Moreover, unless you are a licensed marine mechanic, there is no reason you have to endure the tedious, detailed process of undergoing the replacement or repair process yourself. Find all of the new, old, hard to find, and obsolete diesel engine and marine generator parts you need on our website. You can get them by clicking here: Diesel Services of America.
Marine Generator Parts | Popular Brands
At Diesel Services of America, we carry an abundance of different marine generator parts. These include almost all of the more well-known and popular brands that lead the diesel generator industry. We are factory authorized dealers and distributors of the following brands:
MAN Diesel & Turbo

John Deere

Westerbeke

Cummins / Onan

Perkins

Kohler

& More!
Becoming certified suppliers and technicians for these major manufacturers is something we take very seriously. As such, we represent ourselves and our business with the utmost professionalism. And we utilize our relationships with these manufacturers to ensure our clients that if they need a specific, obsolete, and/ or hard to find marine generator part, we can make it happen.
You can get a better look at our whole line of marine generator parts by visiting our website.
Or, click either of the following links: Line Sheet | Find Parts
Marine Generator Parts | Diesel Services
We provide a full selection of various diesel services for marine engines and generators. From on-site repairs to routine maintenance, we provide our diesel services to countless customers in the South Florida area. In fact, we provide diesel services to meet the needs of the entire Caribbean region. Our diesel services include maintenance, overhauls, and repairs for marine engines and generators. We even offer pod drive services, such as the Volvo Penta IPS Drive.
Marine Generator Parts | About Us
Diesel Services of America came to fruition as a small, family-run business as far back as 1981. Since then, we have become one of the most well-known service providers for diesel engines and marine generators. We are highly regarded among the different marines we regularly perform dockside services at and are located in Fort Lauderdale, FL. Please CONTACT US if you are interested in more information.
Facebook | Twitter | YouTube | Google+
Marine Generator Parts
462 total views, 1 views today